Products
• Awards & Trophies

• Belt Buckles
• Commissioned Sculptures
& Statues
• Grammy Award / Trophy Repair Service

• Key Chains & Jewelry

• Unique Metal Art

• Religious Jewelry

Porfolio
PRODUCT GALLERY
Latest Work!

Other Links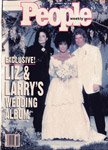 Our Designs have even
made the cover
of People Magazine

Follow Us

Portfolio

American Metal Arts specializes in creating custom, hand finished Trophies and Awards.

We have made the original TV Guide Awards, the Marlboro 500 Racing Trophies, The Nosotrros Golden Eagle Award, the very prestigious Minerva Award, the double-sided Jamaica COC EPA Award, Mr. Holland's Opus Foundation Award the Breath of Life Crystal Award , and many other Corporate Award Events and Award Ceremony Trophies.

Hand Finished Trophy and Award Detailing

Many competitors rely solely on machines to create their trophies; at American Metal Arts we use machines for the casting process when necessary, but the rest of the process is done by hand. We also fabricate, model, and with delicate craftsmanship complete one of kind trophies.

Rest assured we are fully capable of producing awards and trophies in any quantities. We have no minimums. We also enjoy a great reputation in our own industry. When there is a need for lettering within a piece we can make the lettering with high definition and with crisp edges. Many trophy manufacturers have trouble in this area.

But don't take our word for it. We have been selected to design the Minerva Award (right), Created in 2004 by California's First Lady, Maria Shriver, The Minerva Awards®, named after the Roman Goddess Minerva, who graces the California State Seal, honor women of valor each year. We were greatly honored to be part of this wonderful conference and recognition.

Front View

Back View

Jamaica COC Environmental Protection Award




Michael De Medina • 661.265.7010 • info@americanmetalartsstudios.com •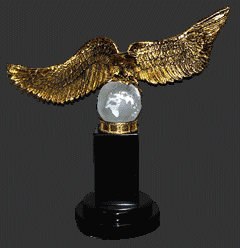 Wide Variety of Custom Made Metal Work and Metal Sculptures
American Metal Art Studios offers a wide variety of metal work products proudly Made in the USA and
NOT Made in China!! From: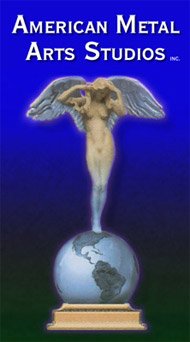 Visit the Michael De Medina Studios Online Gallery for more custom art including sculptures and paintings.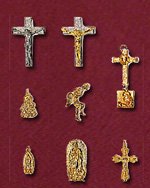 Exquisite, Hand Sculpted
Religious Jewelry