Products
• Awards & Trophies

• Belt Buckles
• Commissioned Sculptures
& Statues
• Grammy Award / Trophy Repair Service

• Key Chains & Jewelry

• Unique Metal Art

• Religious Jewelry

Porfolio
PRODUCT GALLERY
Latest Work!

Other Links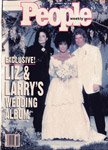 Our Designs have even
made the cover
of People Magazine

Follow Us

Portfolio

We at American Metal Arts Studios have the unique ability to reproduce any machine, product, vehicle, or instrument in miniature. We can create product replicas for advertising or movies, or metal reproductions to be used as props. These can be caricatures or precise reproductions. Of course this entails either the original drawings being used as reference, or the actual product is supplied in order to make the replica.

The Piano Pewter with gold plating antique finish


Sphinx Replica of the Sphinx at the LA Public Library


Highly Detailed Metal Replicas - A Superior Quality Product

Because of the exquisite detail and the weight of the piece it has a perceived value that surpasses the actual costs. Many companies like to have replicas made of new products, or use them as desk ornaments.

These replicas can be used for educational purposes as well and are economical compared to actual models. We have made replicas of countless machines and aircraft that have all the detail imaginable.

We have made in the past reproductions of the Star Trek Enterprise, the moon Landers, as well as many antique cars ships, animals, and everyday items like the Hamburger and Piano pictured on the left.

Hamburger Pewter with gold plating antique finish

Because of our mold process we can reproduce the smallest of details. Of course logos can be put into the product as desired.

Sometimes the logos can be prominent and attention drawn to the logo primarily. This is an excellent advertising tool.

Capital Records

replica of Holywood Landmark

So far we haven't been presented with a job that we couldn't reproduce in miniature.


Michael De Medina • 661.265.7010 • info@americanmetalartsstudios.com •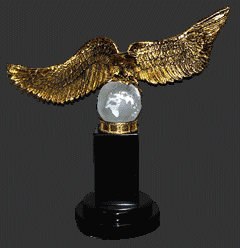 Wide Variety of Custom Made Metal Work and Metal Sculptures
American Metal Art Studios offers a wide variety of metal work products proudly Made in the USA and
NOT Made in China!! From: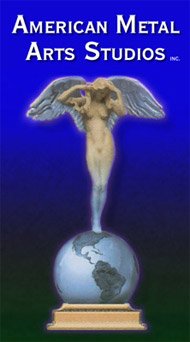 Visit the Michael De Medina Studios Online Gallery for more custom art including sculptures and paintings.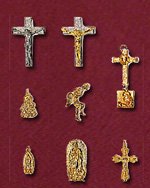 Exquisite, Hand Sculpted
Religious Jewelry