Products
• Awards & Trophies

• Belt Buckles
• Commissioned Sculptures
& Statues
• Grammy Award / Trophy Repair Service

• Key Chains & Jewelry

• Unique Metal Art

• Religious Jewelry

Porfolio
PRODUCT GALLERY
Latest Work!

Other Links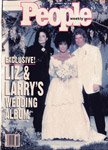 Our Designs have even
made the cover
of People Magazine

Follow Us

Portfolio



Our process has been called Centrifugal Casting or some say White Metal Casting. The first process is associated with the lost wax casting of jewelry. We utilize common machinery in this phase. Our molds are made of black vulcanized rubber. They consist of two halves. The center of the molds has a small hole where molten metal can be poured into them. With the spinning of the mold by the casting machine, the metal is forced into the hallow cavities and the casting cavity is fed by gateways that are like rivers that allow the metal to flow easily.

When the metal cools the casting is extracted from the mold and the difficulty begins. The finishing process begins.Metal flashing must be removed carefully and care is taken that the casting is complete. A wire brush with soft thistles is used and then a deburring process takes place that removes mold lines. This is a very important process that many manufacturers don't watch closely. If the mold lines remain even with the finest plating, the mold lines stand out and the casting has the look of poor quality. After washing the piece is ready for final finishing.




Michael De Medina • 661.265.7010 • info@americanmetalartsstudios.com •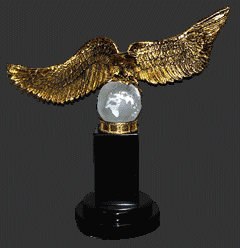 Wide Variety of Custom Made Metal Work and Metal Sculptures
American Metal Art Studios offers a wide variety of metal work products proudly Made in the USA and
NOT Made in China!! From: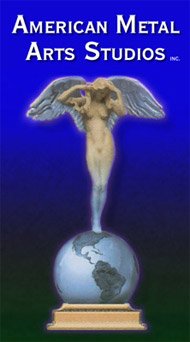 Visit the Michael De Medina Studios Online Gallery for more custom art including sculptures and paintings.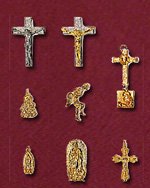 Exquisite, Hand Sculpted
Religious Jewelry