Products
• Awards & Trophies

• Belt Buckles
• Commissioned Sculptures
& Statues
• Grammy Award / Trophy Repair Service

• Key Chains & Jewelry

• Unique Metal Art

• Religious Jewelry
• Acrylic Resin Casting


Porfolio
PRODUCT GALLERY
Latest Work!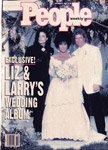 Our Designs have even
made the cover
of People Magazine
About Us
Michael De Medina began the company as a sculptor, silversmith and goldsmith. He has created and designed custom sculptures and awards for over 30 years spanning a wide rage of businesses, industries, events, and clientele. For a comprehensive sampling of his work, please view the Online Protfolio / Product Gallery.
With these disciplines he taught his apprentices how to make custom trophies and awards. Some Awards require the likeness of a corporation founder or president. Sometimes the design called for requires attention to a specific style, such as Art Nouveau, or Ultra Modern, these challenges are met successfully by the artisans at American Metal Arts Studios. Browse our site for many samples of custom awards, metal art work and sculpting.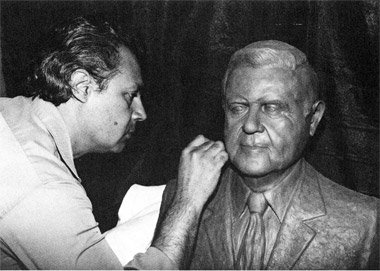 American Metal Arts has worked with many art directors, set designers, as well as costume designers to produce special props. Movie studios at times have requested special one of a kind items for a movie.
We have made special, one-of-a-kind pieces for wrap parties and gifts. American Metal Arts Studios has always met the challenge successfully.
Our close proximity to Hollywood, CA has provided not only an opportunity to work for the Movie Studios, but also create commissioned statues and art for celebrities as well. Be sure to view our Testimonial Page.
From custom Awards & Trophies to Zipper Pulls, American Metal Arts has the skill and expertise to mold, cast, and produce just about anything! Questions ?? Contact Us Today.

Michael De Medina • 661.265.7010 • info@americanmetalartsstudios.com •


High Quality Craftsmanship, Custom Metal Casting and Art proudly made in the USA


Main Menu
| Belt Buckles | Trophies & Awards | Key Chains & Jewelry | Statues & Misc. | Zipper Pulls | Religious Jewelry | Contact Us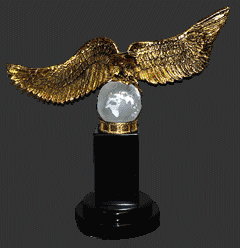 Wide Variety of Custom Made Metal Work and Metal Sculptures
American Metal Art Studios offers a wide variety of metal work products proudly Made in the USA and
NOT Made in China!! From: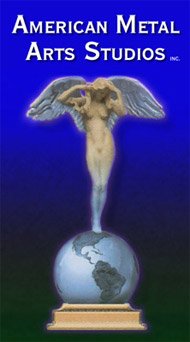 Visit the Michael De Medina Studios Online Gallery for more custom art including sculptures and paintings.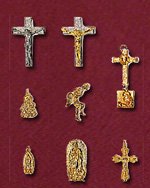 Exquisite, Hand Sculpted
Religious Jewelry