Pope John Paul II Blessed Virgin of Guadalupe and Cross Medallions
Official Certificate documenting Pope John Paul's blessing May 10, 2000



One can argue Michael is a trully BLESSED artist. On May 10th, 2000, Pope John Paul II blessed the master mold models of the Virgin of Guadalupe medallion and the Blessed Cross with the image of the holy father medallion. These medallions can only be manufactured by the world rennowned artist and designer Michael De Medina. These medallions were made to commemorate Pope John Paul II 's historic visits to America, Mexico and the Phillipines and the holy father's message of peace for the world. It has been said that the Medallions with the Pope's image are unique because he only blessed one other jewelery item with his likeness on it.

These unique and rare pieces of art will be availbale for sale online only through this website and for a limited time.
Please contact us for any large quantity orders or interested in custom jewelry , awards, or any metal art designs. If it was good enough for his Holiness, we have "Faith" you or your client will be equally satisfied!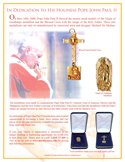 In celebration of Pope John Paul II Beatification and eventual Canonization (the formal act of becoming a saint) these unique and rare jewelry pieces are now exclusively available for purchase only from American Metal Arts. Please contact us for quantity pricing and more information. Chains also available upon request.
DOWNLOAD HiRes Flyer

This page and its content Copyright © 2021
American Metal Arts Studios, Inc. All Rights Reserved